Soerd Punter wrote this review for Altcountryforum.nl at the end of our 5 day tour of the Netherlands.. Iain Matthews still has the voice..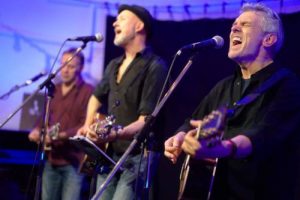 Here's the translation in English:
MATTHEWS SOUTHERN COMFORT
@ De Rozenknop. Eindhoven.
November 24th. 2017
Horst is a small town in the south of the Netherlands that does not only produce an enormous quantity of mushrooms but it also produces music made by Iain Matthews. The Englishman who settled here in the Netherlands some eighteen years ago, is well known for his work with groups such as Fairport Convention, Matthews Southern Comfort and Plainsong.
He came to be known as the the British answer to the glorious harmonies of Crosby, Stills, Nash and Young. Matthews quit the business desillusioned in 1984 but got talked back into it two years later by Robert Plant. So far he built up a catalogue of some twenty odd solo-albums. He revived the band Matthews Southern Comfort in 2010 with Bart de Win on keyboards, BJ Baartmans on guitar and Elly Kellner on vocals. Matthews Southern Comfort has now re-invented itself again. Still with de Win and Baartmans but now with Songwriter Eric Devries as an extra vocalist. A good catch. That proved to be so on Fridaynight November 24th in musicvenue de Rozenknop in Eindhoven. Matthews and his men performed with noticable pleasure and treated us to a a very high standard performance. The 71-year old Brit proved to be singing as well as ever.
It was the last of a series of shows in different parts of the Netherlands. The shows were try-out shows to prepare for the upcoming tour in the UK, starting on December 1st at The Great British Folk Festival in coastal Skegness. "You are Guinea-pigs", Matthews joked. With the new Line-up they recorded a new album to be released in February 2018. It's called 'Like A Radio' and will be released by German label MIG records. In Eindhoven Matthews Southern Comfort played us six songs from the new album, including the single 'Bits And Pieces' as well as 'Crystals On The Glass' a beautiful song Matthews wrote for his daughter. The emphasis, as was in the old days still lies on the vocals. Especially Eric Devries and Iain Matthews propelled each other to great heights, while Baartmans, the man with the Smiley-face and de Win expertly took care of the instrumental tapestry, but also joined in singing. A wonderful wall of sound. Never before was Iain Matthews backed by such a great band.
The show started with 'Letting The Mad Dogs Lie' from the 2010 'Kinda New' album. Before the break we went back in time, back to the renowned album 'Later That Same Year' from 1970. This album featured 'Woodstock' a song written by Joni Mitchell but covered by Matthews and his only world wide hit record. Matthews wrote a new version of the song called 'Age Of Isolation' that will appear on the new album. After the break they also played 'Woodstock' at the very end of the show. A couple of 'Howling Wolves' roared in the audience on hearing old songs like 'Mare Take Me Home' (1970) and ' Darcy Farrow' (1969). Encores just had to follow. Those were 'The Way Things Are' from 2010 and 'Road To Ronderlin' (1970). Again a great night at De Rozenknop that keeps evolving as an alternative cultural venue.