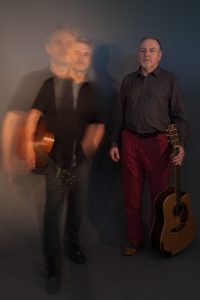 In 1972, nearly 40 years ago, Liam Gallagher, Gwyneth Paltrow and Zinedine Zidane were born. The Munich Olympics took place. Richard Nixon was in the White House, showing the North Vietnamese where they had gone wrong. Edward Heath was doing the same to the Irish…And 2 young friends, Iain Matthews and Andy Roberts, already music business veterans, formed Plainsong, a groundbreaking vocal harmony quartet, which lasted for exactly eleven months before musical differences brought it to a premature end. During that year they recorded the much-loved album In Search Of Amelia Earhart.
Iain and Andy went their separate ways. Iain moved to America for 30 years, to build a career that has now encompassed over 50 albums, ranging from solo releases to collaborations, with some of the most illustrious musicians of the last 50 years. Andy played in groups for a while, Pink Floyd being the most notable, and then wrote extensively for theatre, TV and film, ending up scoring for Disney in Hollywood.
In 1990, they met again by chance and started a new phase of their collaboration. For 2 years they worked as a duo, and then in 1992 they decided to rebuild Plainsong to recapture the vocal and instrumental ideal of the original band. They recruited Mark Griffiths, a multi-instrumentalist who had been lead guitarist in Iain's celebrated band of the 1960s, Matthews Southern Comfort into the mix.
Over the next 11 years they recorded, toured extensively in the UK and on the continent to great acclaim, and built a strong following amongst discerning lovers of acoustic music. With 3 experienced songwriters in the band, a stream of high quality material was at hand, augmented by well-chosen covers of songs they respected.
Iain has changed his life with a move to Holland. He has released a string of excellent CDs, progressing with his superb writing and fine tenor vocal in a jazz direction.   Andy moved into record production and revived his work as a touring sideman with Roy Harper and members of the Bonzo Dog Band and Griff has toured the world as bass player for both Cliff Richard and The Shadows; Amongst all this activity Plainsong had no chance to tour. UNTIL NOW.
With the release of their new album, REINVENTING RICHARD The songs of Richard Farina. Iain and Andy will play a selected number of live appearances in the UK, Holland, Italy, France, Denmark and Germany: This may be a last chance to see this legendary duo onstage together for one final tour.