Artist:

Matthews Southern Comfort

Album:

The New Mine

Medium:
CD/Download
Stil:

Poppiger Folk-Rock

Label:
MIG Music
Spieldauer:
54:43
Erschienen:
27.03.2020
Website:

http://musikreviews.de/reviews/2020/Matthews-Southern-Comfort/The-New-Mine/
Wolfgang Doebeling hat IAIN MATTHEWS bereits vor Jahrzehnten als "Konstante des britischen Folk-Rocks" eingeordnet und den inzwischen über 70-jährigen englischen Songschreiber, Sänger und Gitarristen damals als einen "Wanderer zwischen zwei Welten, nie nur britisch, selten pur amerikanisch" bezeichnet. Diese zwei Welten sind unterdessen – jedenfalls was den Wohnsitz betrifft – zwar auch Geschichte: Schon vor zwanzig Jahren hat MATTHEWS seinen Lebensmittelpunkt von Austin, Texas, in die Niederlande verlegt.
Ausführlicher sei an dieser Stelle nicht auf die Biografie des englischen Musikers eingegangen. Interessierte finden nämlich Näheres dazu in der Besprechung des letzten Albums von MATTHEWS SOUTHERN COMFORT ("Like A Radio", 2018) von Kollege Jochen König.
Aber zum neuen Album. Es ist das sechste von MATTHEWS SOUTHERN COMFORT, und mögen vom Erscheinen des Debüts anno 1970 bis zum neuen "The New Mine" auch fünf Jahrzehnte vergangen sein: MATTHEWS schreibt nach wie vor hervorragende Songs, ist beneidenswert gut bei Stimme und hat – wie immer schon – ein sicheres Händchen bei der Auswahl seiner Mitmusiker.
"Lady's singing, voice like candy to my ear, gently swinging, I can dance to what I hear…" singt IAIN MATTHEWS im Song "Patty's Poetry". Und irgendwie passen diese Worte rundum: "The New Mine" ist ein stimmungsvolles und harmonisches Album, unaufgeregt und weit entfernt von Neuem oder Aufregendem. Dafür einfach schön und gut – diese Allerweltsbeschreibung sei in diesem Fall für einmal erlaubt.
Um doch ein paar der zahlreichen kleineren und größeren Besonderheiten zu nennen: Der Reigen der zwölf Songs beginnt mit einer überzeugenden Version von JONI MITCHELLS "Ethiopia" ("Dog Eat Dog", 1985). Perlende Gitarren und satte Gesangsharmonien sorgen für einen Auftakt, der es in sich hat. Leicht twangende Gitarren und ein jazziges Piano machen darauf "Feed It" zu einem der weiteren bemerkenswerten und eingängigen Songs, und in der "Starvation Box" werden ein paar schöne Einschübe mit der Slide-Gitarre serviert.
FAZIT: MATTHEWS SOUTHERN COMFORT legen mit ihrem neuen Werk ein stimmiges und wohlklingendes Album vor. Wer die Band bereits in den Siebzigerjahren hörte, wer vergleichsweise den HOLLIES, CROSBY, STILLS, NASH & YOUNG oder CROWDED HOUSE etwas abgewinnen kann, der wird auch "The New Mine" mit Sicherheit schätzen.
Review Folk Radio.co.uk March 31 2020
Matthews Southern Comfort – The New Mine
MIG Music – Out Now
Originally the title of Iain Matthews' debut solo album back in 1969 before dropping the apostrophe and taking on the band mantle and going on to score a No 1 in 1970 with a cover of Joni Mitchell's Woodstock, Matthews quitting two months later to go solo. The name was resurrected in 2010 with the line-up featuring guitarist Bart Jan Baartmans, keyboardist Bart de Win and Eric De Vries on acoustic guitar and shared lead vocals, releasing Kind of New and then Kind of Live the following year. A seven-year recording hiatus was broken in 2018 with Like A Radio and now comes the latest edition, returning to the Mitchell songbook for a near six-minute version of Ethiopia, her 1985 song about the privations of its people through drought and the deforestation brought about by western greed, but also their dignity in the face of such tribulations.
The first of two solo Matthews compositions, he and Devries trading verses, The Hands of Time is a slow-paced gospel-flavoured song featuring a de Win piano solo and with an infectious chorus about lying awake in some cheap hotel when "the sleep won't come" and the mind rambles back over the years. Baartmans on slide solo, mandolin introducing a steady drum beat, the other is Starvation Box, a story song about a former soldier named Shine ("it's just a name I answer to, it's not who I am"), who, the title referring to his guitar, was wounded in Vietnam, refused to return, changed his name and became an itinerant musician, only, of course, to end up in chains.
A collaboration with Jan Kleeven, featuring some fine resonator guitar, Feed It adopts a catchy walking beat and some jazzy piano touches on a simple summery song about nurturing a relationship, then it's the turn of Baartman to take the composition spotlight with his gently shuffling Patty's Poetry, though whether the titular – and possibly Nashville-based – writer who enthrals him is anyone in particular, is open to conjecture.
The track from which the album title comes, Working In The New Mine, originally appeared on Briar Visions, a 2004 album by East Tennessee bluegrass singer-songwriter Ed Snodderly, a modern-day labour song about how "We're all working for the Pharaoh", here drawing out the number's blues inspirations to a greater extent.
Matthews and Devries pair up for two numbers, the first being the easy-rolling 70s country rock and accordion flavoured C'mon Amigo and its call to pull together and look after one another rather than "rubbing salt into the wound", the other the more rocking rhythm of Inbetween which comes on somewhere between vintage Everlys and Status Quo.
There's just one de Win/Matthews song, but The Hole is a strong one, a slow-paced, rhythmically measured close harmony contemplation of the world's environmental crisis resulting from the expanding tear in the ozone layer and the subsequent global warming, asking just what we're doing to try and implement a solution, de Win's keyboards taking centre stage as the track builds towards the end.
The remaining three numbers are all Baartmans/Matthews credits, A Secret Is Gone, a pulsing, nervy melody line with wooden block percussion, exposing a furtive tryst, jazzy piano returning on The Sacrificial Cow, another number about betrayal, ending with the acoustic In My Next Life, a laid-back, piano-backed, Randy Newmanish philosophical resolve to learn from experiences to make a better go of it next time around.
Well-polished but never sterile, it may take a few plays to seep in, but its smooth mix of mellow warmth sharp observation has a lingering taste.
The New Mine
CD
for www.jpc.de
2017 meldeten sich Matthews Southern Comfort mit dem Longplayer »Like A Radio« erfolgreich zurück. 48 Jahre nach ihrem weltweiten #1 Hit, der Coverversion von Joni Mitchell's »Woodstock«, neu formiert, mit verjüngter Besetzung, präsentierten sich vor knapp zwei Jahren die Singer / Songwriter voll auf der Höhe der Zeit – klangen frisch, modern und innovativ. Das Konzept von Bandgründer Iain Matthews ging voll auf – das musikalische Können, Engagement sowie die ungebremste Spielfreude suchen nach wie vor ihresgleichen und die mehrstimmigen, dahingleitenden Vokalharmonien erinnerten sofort an die Ur-Version der Band.
Nun kommt das neue Matthews Southern Comfort Album »The New Mine« auf den Markt. Während die Erfolgssingle »Woodstock« nie auf einem offiziellen Longplayer der Band veröffentlicht wurde (es gab sie nach dem ersten Split der britischen Folkrocker nur auf »Best Of« – Compilations), eröffnen MSC ihr neues Album zu Ehren der großartigen amerikanischen Songwriterin mit einem neuen Jon Mitchell Cover, und zwar »Ehtiopia« aus ihrem 1985er Album »Dog Eat Dog«.
Wie schon beim Vorgänger »Like A Radio« trifft auch auf »The New Mine« britischer Folkrock der alten Schule auf Americana – zeitgemäß, innovativ, eigenständig, atmosphärisch, ausgefeilt. Das Songwriting besticht durch eine hohe Qualitätsdichte, seit mehr als 50 Jahren eh ein Markenzeichen von Iain Matthews und seinen jeweiligen Mitstreitern.
Rezensionen
»…dafür starke Songs. Die offerieren warmherzige Geschichten mit angenehmen Melodien, wunderschönen Gitarrenläufen, jazzigen Pianomomenten, Gospelanflügen, entspannten Grooves (bei ›A Secret Is Gone‹ mit Akkordeon und angedeutetem Nick-Lowe-Flair), bluesig wie folkig angehauchten Momenten, Westcoast-Tupfern, Country-Einsprengseln.« (Good Times, April / Mai 2020)
In 2017, Matthews Southern Comfort returned successfully with the longplayer "Like A Radio". 48 years after their worldwide #1 hit, the cover version of Joni Mitchell's "Woodstock", the singer/songwriters presented themselves two years ago as a new band with a younger line-up – fresh, modern and innovative. The concept of band founder Iain Matthews was a complete success – the musical ability, commitment and the unbridled joy of playing are still unparalleled and the polyphonic, gliding vocal harmonies immediately reminded one of the original version of the band
Now the new Matthews Southern Comfort album "The New Mine" is released. While the successful single "Woodstock" was never released on an official longplayer of the band (it was only available on "Best Of" compilations after the first split of the British folk rockers), MSC open their new album in honour of the great American songwriter with a new Jon Mitchell cover, namely "Ehtiopia" from their 1985 album "Dog Eat Dog"
As with its predecessor "Like A Radio", "The New Mine" also combines old-school British folk rock with Americana – contemporary, innovative, independent, atmospheric, sophisticated. The songwriting impresses with a high quality density, for more than 50 years a trademark of Iain Matthews and his respective comrades-in-arms anyway.
Reviews
"…for that.. strong songs. They offer warm-hearted Stories with pleasant Melodies, beautiful guitar runs, jazz piano moments, gospel flights, relaxed grooves (on 'A Secret Is Gone' with accordion and implied Nick-Lowe-Flair), bluesy and folky Moments, West Coast swabs, Country-busting." (Good Times, April / May 2020)
Matthews Southern Comfort, The New Mine
Iain Matthews (oorspronkelijk Iain Matthew McDonald) is een grootheid in de folkmuziek en aanverwante stromingen. Hij was in 1968 en van de originele leden van de legendarische Fairport Convention. Zijn muzikale wegen (hij omarmde in zijn carrière folk, folkrock, alternatieve rock, country, jazz) leidden vervolgens naar Matthews Southern Comfort, een Britse Americana band van het eerste uur. Drie LP's verschenen in 1970, er kwam een immense hit met Joni Mitchell's 'Woodstock. Daarna was er Plainsong met het legendarische album 'In Search of Amelia Earhardt' (1972), een LP die ik werkelijk bijna tot de draad heb versleten. Een voor mij optimaal mooie solo-CD was er in 1973 onder de titel 'Valley Hi', country op zijn best, geproduceerd door de meest muzikale Monkee, Michael Nesmith. Diverse vormen van Plainsong zijn er in de loop der jaren geweest, er was in 2001 een prachtig project met Eliza Gilkyson en onze Ad Vanderveen: 'More Than a Song'. In 2000 bracht de liefde hem in ons Limburg, waar hij in Horst zijn woonplaats vond. Er kwam in 2010 een revival van Matthews Southern Comfort en in 2017 ontstond de huidige samenstelling van de band met louter Nederlandse geweldenaars in de gelederen: gitarist BJ Baartmans (samen met Iain producer van dit album), Bart de Win op piano/accordeon en singer/songwriter Eric Devries. De tweede CD in deze samenstelling is inmiddels een feit en het moet gezegd: subliem, subliem. De zang (Iain heeft een van de mooiste stemmen in zijn genres), de begeleiding, de 10 originele songs – geschreven door Iain met hulp van de bandleden – de twee covers, 'Working in The New Mine' van Ed Snodderly (over kantoorarbeiders, werken achter de computers is voor Ed 'Working in the new mine') en "Ethiopia' van Joni Mitchell. Luister naar het prachtige 'Hands of Time', het door geweldige samenzang opgeleukte up-tempo nummer 'Feed it', de gevoelige ballad 'C'mon Amigo en alle overige juweeltjes.
Ik moet nu stoppen, ga zelf luisteren en geniet van de intieme en soms lekker (soft)rockende muziek van een gigagoede singer-songwriter. We mogen in onze handen knijpen met musici van dit kaliber zo dicht bij huis. Ik neem aan dat er een tourtje aan vast zit! Gaan! (MIG Music)
---
pennyblackmusic.co.uk.
Distinctive folk-rock/Americana on latest album from Matthews Southern Comfort, the band of former Fairport Convention vocalist Iain Matthews
Band: Matthews Southern Comfort
Title:
The New MIne
Reviewed By:
Zena Greig
Date Published:
10/04/2020
Label:Mig Mus
Format:CD
Release Year:2020
It is five decades since singer/songwriter Iain Matthews, former lead vocalist with Fairport Convention, founded the band and hit number one in the UK with his million-selling version of Joni Mitchell's 'Woodstock.' This latest collection shows that Matthews Southern Comfort continues to successfully master the ground between British folk-rock and Americana.

The twelve tracks on this new album include a poignant, understated version of Joni Mitchell's 1985 song 'Ethiopia', bringing a synergy to the cycle of Matthews' music. In 'The New Mine' Matthews' trademark reflectiveness and lyrical sharpness are perfectly complemented by the accomplished musicians who worked with him on the acclaimed 'Like a Radio' – Bart de Win on keyboard, Eric de Vries on acoustic guitar and vocals and Bart Jan Baartmans on guitars, mandolin, sitar, bouzouki, banjo and backing vocals.

From the country vibe of 'The Hands of Time' and 'C'mon Amigo' to the lyrical warning about global warming in 'The Hole', 'The New Mine' abounds with strong, imaginative songs and rich instrumental virtuosity, backed by a polished production. This all adds up to an enjoyable, melodic album marking the latest stage in Matthews Southern Comfort's distinctive sound.
Matthews Southern Comfort – The New Mine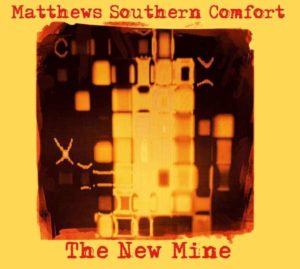 (54:41, CD, Made In Germany Music, 2020)
Bereits 49 Jahre ist es her, dass die britische Folkrock Band Matthews Southern Comfort mit ihrem Cover von Joni Mitchells 'Woodstock' einen weltweiten Nummer Eins Hit lieferte. Das Cover verbreitet noch heute die Atmosphäre von damals und transportiert das Gefühl der späten 60er und 70er. Der Song wurde nie auf einem Longplayer der Band veröffentlicht. Nach dem ersten Split von Bandgründer Iain Matthews und seinen Mitmusikern wurde das Stück nur auf unzähligen "Best Ofs" veröffentlicht.
Vor knapp zwei Jahren hat Matthews die Band in seiner jetzigen Formation wiederbelebt. Die Band wurde einer Verjüngungskur unterzogen und besticht durch musikalisches Können und die bandtypischen Gesangsharmonien. Zu hören auf dem jetzt erschienenen Album "The New Mine".
Das Album beginnt auch – quasi als Hommage – mit einem neuen Joni Mitchell Cover. 'Ethiopia' stammt vom 1985er Album "Dog Eat Dog" und die Band nimmt einen direkt wieder mit ihrem atmosphärischen Mix aus Folk Rock und Americana gefangen. Matthews Southern Comfort können direkt das Hippie-Gefühl und ihre bandeigene Stimmung verbreiten und klingen dabei modern und frisch.
Die Band versprüht eine mitreißende Energie und beherrscht die bereits erwähnten mehrstimmigen, schwebenden Vokalharmonien in Perfektion. Das Songwriting ist durchdacht und ausgefeilt, das ganze Album bleibt qualitativ auf hohem Niveau. Eine runde Sache, die vor allem Stimmung und Atmosphäre verbreitet.
2020 wollen Matthews Southern Comfort die neue Scheibe auf einer Deutschlandtour sowie in den Benelux-Ländern und dem Vereinigten Königreich vorstellen. Dabei steht unter anderem das Fairport Convention Cropredry Festival auf dem Reiseplan, bei dem auch Fairport Convention, Richard Thompson, Clannad, Steve Hackett, Martin Joseph, Trevor Horn und Richard Digance auftreten sollen. Ob diese Auftritte unter den derzeitigen Umständen noch stattfinden, bleibt natürlich abzuwarten.
https://www.newfolksounds.nl/matthews-southern-comfort-the-new-mine/tip-cd/2020
Matthews Southern Comfort – The new mine
The new mine
(MIG 02222CD)
Hoe moet je als band je op dit moment profileren met een gloednieuw album: geen premièrevoorstelling, geen promotour, geen of beperkte (live) interviews op radio… Het overkomt Matthews Southern Comfort dat parallel aan de uitbraak van het Coronavirus een opvolger voor Like a radio op de markt slingert. Dan maar een recensie…
Er rust vervolgens een verantwoordelijke taak op de schouders van de recensent. Want die recensie behoort eerlijk en zoveel mogelijk objectief te zijn. Om maar met de deur in huis te vallen: daar twijfel ik aan. Trouwe lezers weten dat ik een grote fan van Iain Matthews ben. Al vanaf het begin volg ik zijn carrière. Niet alles was even succesvol of goed, maar toch. Hij vond zijn weg. Zeker na zijn verhuizing naar ons eigen Nederland begon het meest vruchtbare gedeelte van zijn carrière. Muzikaal hoogtepunt op hoogtepunt. More than a song, samenwerking met Ad Vanderveen, heropgericht Plainsong, een enkel solo album tussendoor en het als een Phoenix herrezen Matthews Southern Comfort.
Het was en is smullen geblazen, en het is gelukkig nog niet allemaal voorbij, ondanks de vijftig muzikale jaren die al achter hem liggen en een leeftijd waar menigeen al ruim met pensioen is. Maar Matthews Southern Comfort is geen soloproject ondersteund door een paar gastmuzikanten. MSC anno 2020 is een gelouterd en hecht collectief. Dat blijkt niet alleen uit het in samenwerking componeren van 10 van de 12 tracks op deze cd. En net als de twee covers – een gedurfde en zeer geslaagde versie van Joni Mitchell's Ethiopia en E. Snodderly's Working in the new – kwamen de arrangementen gezamenlijk tot stand.
Snaren- en producerwizzard Bart-Jan Baartmans springt in het oor met inventieve loopjes, flitsende soli en soms weirde soundscapes. Maar evengoed zorgt toetsenwonder Bart de Win voor sfeervolle, jazzy en swingende toevoegingen. Minder op de voorgrond wellicht, maar zeker de perfecte side-kick (singer) is singer-songwriter Eric Devries, die met de grote meester voor perfectie harmoniezang zorgt en af toe zelf de lead voor zijn rekening neemt. Die twee stemmen slingeren als lianen ineen tot een perfecte sterke streng.
Kenmerkend voor het nieuwe MSC zijn de frequente toonsoortwisselingen. Qua sfeer en stijl is er een enorme variatie. Van het jazzy Ehtiopia, het gospelachtige The hands of time (met een heerlijke vloeiende solo op mandoline door Baartmans), een vintage 60-er jaren sound in Feet it, een standaard Matthews ballad Patty's Poetry tot het rauwe bluesy Working in the new mine, country gerelateerde C'mon amigo en spooky A secret is gone. En ondanks die grote verscheidenheid ademt de cd één geheel uit.
Was voorganger Like a radio al een diamant, deze The new mine bevestigt de klasse van de huidige coherente band.
---
---
https://www.rocktimes.info/matthews-southern-comfort-the-new-mine-cd-review/
Matthews Southern Comfort / The New Mine – CD-Review
Es passt kein Blatt Papier dazwischen: Matthews Sounthern Comfort (MSC) sind auf ewig verschweißt mit ihrem Hit "Woodstock", im Original von Joni Mitchell.
Zwischen dem Chart-Song und "The New Mine" liegen Jahrzehnte.
Am Ende der Neunzigerjahre gab es, zumindest, was Matthews Southern Comfort angeht, eine längere Pause.
Ende 2010 erschien Kind Of New und ein Jahr später kam "Kind Of Live" auf den Markt.
2017 erschien Like A Radio.
Ende März 2020 stand "The New Mine" in den Regalen.
Iain Matthews ist das Bindeglied zwischen der MSC-Vergangenheit und der Gegenwart.
Neben dem Bandleader verfügt die Formation über weitere herausragende Musiker. Deren künstlerischen Wege kreuzen sich hier und da. So bringt man B.J. Baartmans unter anderem in Verbindung mit seiner Band The Space Age Travellers, JW Roy, Eugene Ruffolo, Plainsong, Shannon Lyon oder Eric Devries.
Letzterer wiederum ist ebenfalls in einigen Projekten tätig und hat zum Beispiel mit seiner eigenen Band The Easy 2007 "Sweet Oblivion" veröffentlicht. Debütiert hat er mit "Little Of A Romeo". Gemeinsam mit B.J. Baartmans spielte er jahrelang im Duo-Format.
Last, but not least ist Bart de Win kein Unbekannter bei RockTimes. Er spielt zusammen mit Walt Wilkins und bildet gemeinsam mit Arianne Knegt die Band Tip Jar. Wenn man so will schließt sich der Künstler-Kreis hier, denn auf dem Tip Jar-Album Gemstone Road ist B.J. Baartmans mit von der Partie.
Alle vier Musiker haben – auch in Kombination – ihren Anteil am Songwriting. "Working In The New Mine" stammt vom Singer/Songwriter Ed Snodderly. Welch eine Fügung, denn "Ethiopia" wurde von Joni Mitchell geschrieben. Abermals schließt sich ein Kreis.
Hier sind hochkarätige Musiker aktiv und die präsentieren eine erhabene Version von "Ethiopia", das textlich leider immer noch aktuell ist. Das Quartett beeindruckt durch seinen wunderschönen Chorgesang, über dem sich Iain Matthews immer noch sehr überzeugend seine Stimme erhebt. Da ist nicht zu spüren von einer Abnutzungserscheinung. Bemerkenswert! Neben feinen Gitarren-Gaben bringt Bart de Win geradezu verführerische Tastenklänge an die Ohren des Hörers. Eine Samthandschuh-Interpretation.
Das im Studio Wild Verband (Boxmeer/NL) eingespielte Album hat eine prächtige, sehr authentische Atmosphäre.
Auch die Freunde des Bottleneck-Sounds kommen auf ihre Kosten. So zum Beispiel in "Starvation Box", das auch noch durch einige feine Tempovariationen glänzt.
Den Folk-Touch in "A Secret Is Gone" verpasst Bart de Win mit seinem Akkordeon. Herrlich, wie er Sehnsucht zum Ausdruck bringt und phasenweise darf es auch rocken. Klasse Spannungsbogen!
Den Blues finden wir in "Working I The New Mine".
Rhythmisch immer auf der Höhe ist der Schlagzeuger Sjoerd van Bommel, der auch bei The Space Age Travellers trommelt. Wunderbar passt Elly Kellners Gesang in "Hands On Time". Von ihrer Stimme hätte man sich den einen oder anderen weiteren Einsatz gewünscht. Die Entspanntheit von "Feed It" mit seinem ein wenig jazzig angehauchten Piano- und fein gestalteten akustischem Gitarren-Solo ist einfach zum Niederknien.
Diese Band verfügt über hervorragende Musiker, die auf ihre individuelle Art Matthews Southern Comfort ihren Stempel aufdrücken und "The New Mine" zu so etwas wie einem Meisterstück anwachsen ließen. Auf diesem Album stimmt alles.
Davor kann man nur den Hut ziehen und hoffen, dass man zu weiteren Veröffentlichungen zusammenfindet.
Bleibt in diesen Zeiten gesund und nehmt euch zur Ablenkung Zeit für gute Music
Line-up Matthews Southern Comfort:
Iain Matthews (vocals, acoustic guitar)
B.J. Baartmans (electric guitar, acustic guitar, mandolin, resornator guitar, bass, vocals)
Eric Devries (acoustic guitar, vocals)
Bart de Win (piano, accordion, Wurlitzer, Fender Rhodes, vocals)
Honorary Members:
Sjoerd van Bommel (drums)
Elly Kellner (vocals – #2)
---
http://www.fatea-records.co.uk/magazine/reviews/MatthewsSouthernComfort/
Matthews Southern Comfort
Album: The New Mine
Label: MIG
Tracks: 12
Website: http://www.ianmatthews.nl
Iain Matthews has been making music since the mid 1960's in various guises but is arguably best known for his involvement with Matthews Southern Comfort, the band that he continues to lead to the present day. Fans of Fairport Convention may of course dispute this!
The PR materials for the latest album describe this latest offering as "British folk rock meets classic Americana" and is probably a fairly good description for those unfamiliar with his and the band's work.
"The New Mine" opens with a fabulous version of Joni Mitchell's "Ethiopia." The arrangement is similar to the reworking of another Mitchell classic "Woodstock" which I heard the band perform a few years ago. The emphasis being on both the lyrics and the strong well balanced harmonies.
This new album changes the pace of the music constantly throughout. The third track "Feed It" is an upbeat joyful number with a delightful piano section in the middle. It is a song that is most perfectly suited to Iain's voice. "The Hole" questions what we are doing to our world and is a cry for the return of sanity. Despite the subject matter, this is a song that will make you think, possibly join in and cheer at the end at the sentiments expressed.
The band consists of Bart Jan Baartmans, Bart De Win, Eric De Vries and of course Iain. This new album was produced jointly by Bart and Iain, and they have come up with a real musical gem here.
Despite his many years in the business, Iain retains a freshness about his music and his at times, soulful little boy lost voice, is perfect for the deep meaning of some of the songs on offer here. A mix of superb lyrics and great musicianship combine to produce an album of real warmth and clarity.
The New Mine will be released in March of this year and a UK tour is planned for later in the year. Having seen the band before I can thoroughly recommend them especially if you enjoy your live music delivered with real passion and class.
Rory Stanbridge
---
ALBUM RECENSIE
DOOR
CORNÉ VAN GROENEDAAL voor MPodia
19 dagen geleden

• 3 min lezen
70's sound / Country / Folk
8
Matthews Southern Comfort – The New Mine
De oorspronkelijk in Engeland geboren Iain Matthews woont alweer enkele jaren in Nederland. De muzikant annex songwriter gaat al een kleine vijf decennia mee in de muziekwereld en heeft een discografie waar we een diepe buiging voor maken. In 2017 blies hij nieuw leven in een eerdere band van hem, Matthews Southern Comfort, en onlangs was de release van het tweede album The New Mine.
Een heel muziekleven
Eind jaren '60 maakt Matthews zijn eerste plaat met Fairport Convention om de band na enkele jaren weer te verlaten en zijn eigen Matthews' Southern Comfort te formeren. In 1970 scoren ze een grote hit met hun versie van Joni Mitchell's 'Woodstock' maar ook deze band kent geen lange houdbaarheidsdatum en via andere bands én heel veel solowerk strijkt Matthews uiteindelijk ergens in Limburg neer. In 2017 besluit de Brit dan om toch een herstart te maken en samen met gitarist BJ Baartmans, Bart de Win op piano/accordeon en Eric Devries krijgt Matthews Southern Comfort een tweede leven en een grote Nederlandse inbreng.
Joni Mitchell
Toeval of niet, ook nu kiest de band voor een cover van Joni Mitchell en met een meer dan geslaagde én smaakvolle versie van 'Ethiopia' opent de band dit nieuwe album. Verderop komen we nog een cover tegen, 'Working In The New Mine' (Ed Snodderly) dat vooral door het pianospel van Bart de Win een aangename Boogiewoogie vibe meekrijgt. De overige tien nummers zweven ergens tussen Folk en Softrock en klinken allemaal meer dan aangenaam en doen roepen ongetwijfeld herinneringen op aan platen van bands als CS&N maar ook zeker Steely Dan. Luister maar eens 'Starvation Box' dat, mede door het gitaarspel van Baartmans op de Slidegitaar, absoluut wat elementen van de muziek van Steely in zich heeft. Verder zijn nummers als 'A Secret Is Gone' (inclusief accordeon)
Westcoast-sound
Eén van de troeven die Matthews vaak uitspeelt is het zingen in harmonieën, de meerstemmigheid die ervoor zorgt dat je het gevoel krijgt naar muziek te luisteren die we allemaal wel herkennen en die gewoon lekker weg luistert. Het Westcoast-achtige 'C'mon Amigo' met een vleugje country is een mooi rustmoment evenals het ingetogen 'The Hole' waar de wereldwijde klimaatproblematiek aan de orde komt. 'Patty's Poetry' kabbelt lekker voort maar het is toch vooral 'The Hands Of Time' dat naast de cover van Joni Mitchell wedijvert voor beste track op dit album.
Eindoordeel
The New Mine is een fijne plaat geworden. De twaalf nummers zijn uiterst toegankelijk met de al eerdergenoemde kenmerken die de sfeer van deze plaat bepalen. Blijft natuurlijk een fantastisch verhaal dat deze 73-jarige muzikale veelvraat de band een nieuw leven in heeft gelbazen met een over het algemeen Nederlandse bezetting. Veel luisteralbum
Britse muzieklegende Iain Matthews vertrouwt op zijn Nederlandse band
EINDHOVEN/HORST – Met een volledig Nederlandse band heeft de Engelse muzikant Iain Matthews een nieuw album opgenomen. De inwoner van Horst schrijft weinig liefdesliedjes; hij observeert de wereld als een journalist.
Officieel zou Iain Matthews (73) al een hele tijd met pensioen kunnen zijn. Maar net als veel andere muzikanten van zijn generatie is de Brit nog een druk bezet man. Volgens producer en muzikant BJ (Bart-Jan) Baartmans, die al jarenlang met Matthews samenwerkt, heeft hij een enorme 'drive'. ,,Dat is soms lastig. Voordat je goed op gang bent met het ene project, is Iain alweer met iets anders begonnen. Het is nu belangrijk om hem gefocust te houden op Matthews Southern Comfort."
Met die band bracht de zanger, gitarist en songschrijver, die met zijn Nederlandse vrouw in Horst woont, een nieuwe plaat uit. De groep scoorde in oktober 1970 een Engelse nummer 1-hit met 'Woodstock', een cover van Joni Mitchell. Hij verliet de groep vrij snel daarna, omdat de band volgens hem 'te weinig muzikale diepgang had'. ,,Iain heeft behoorlijk wat projecten de rug toegekeerd, voordat ze echt groot werden", weet Baartmans. ,,Hij kreeg vaak het gevoel dat hij zijn vrijheid verloor en expressie kwijtraakte. Dat heeft zijn carrière voor een groot deel bepaald."
De discografie van Matthews is eindeloos
Maar liefst vier decennia later besloot hij de abrupt afgebroken reis met Matthews Southern Comfort alsnog te voltooien. De oprichter heeft zich nu met drie Nederlanders omringd: BJ Baartmans (Boxmeer), Bart de Win (Nuenen) en Eric Devries (Spijk). Zij vormen de vaste kern. Op de plaat is ook de Bossche drummer Sjoerd van Bommel te horen.
De discografie van de Brit is eindeloos. Hij speelde in de invloedrijke folkrockband Fairport Convention, maakte deel uit van de groep Plainsong, nam een groot aantal soloplaten op en stortte zich op samenwerkingsprojecten. De man is een legende, stelt toetsenist en zanger Bart de Win. ,,Maar daar loopt hij absoluut niet mee te koop."
Het draait in de band dan ook niet om het ego van de naamgever. Matthews Southern Comfort is een hechte club; alle bandleden schreven mee aan het album 'The New Mine'. ,,Iedereen kan zijn identiteit als muzikant laten gelden", vindt Baartmans. ,,Dat maakt ons veel meer dan een stel begeleiders. We proberen ervoor te zorgen dat iedereen de ruimte krijgt." De Win: ,,Dit is een band met een eigen repertoire. Tijdens optredens vragen mensen soms om een nummer van dertig jaar geleden, dat op een solo-plaat van Iain staat. Maar hij wil dan alleen songs van Matthews Southern Comfort spelen. Iain doet zijn best om zijn oeuvre in compartimenten op te delen. Anders wordt het rommelig."
Metafoor voor de kantoortuin
De albumtitel is afgeleid van het nummer 'Working In The New Mine', een cover van de Amerikaanse muzikant Ed Snodderly. Die 'nieuwe mijn' is een metafoor voor de kantoortuin, een plek waar veel mensen werken aan zaken waar ze zelf weinig vat op hebben. Hoewel de song niet door Matthews is geschreven, past het thema prima bij diens stijl. ,,Iain schrijft niet zoveel liefdesliedjes of teksten met heel persoonlijke bespiegelingen. Hij is eerder een journalist of commentator die toekijkt", verduidelijkt Baartmans.
De podium-lockdown houdt de muziekwereld nog in zijn greep, maar uiteraard hopen de mannen hun nieuwe songs live te kunnen spelen. Baartmans: ,,Het voelt goed, we hebben veel vertrouwen. Daarom kunnen we ook in een korte periode een plaat maken. Als we nu een tournee zouden moeten doen, kunnen we tijdens een middag repeteren de boel alweer op scherp zetten. Dat is echt te gek."
MATTHEWS SOUTHERN COMFORT – The New Mine
MiG 2020 http://dmme.net/matthews-southern-comfort-the-new-mine/
British troubadour and his Dutch ensemble seize the zeitgeist to make its melody last.
It's been five decades since this singer shed an apostrophe from the title of his solo debut and turned personal solace into COMFORT, reverting to collective creativity he had gotten used to in FAIRPORTS. But while many artists of same vintage landed on complacency later on, Iain Matthews is still attuned to the world's affairs and still keeps his perspective fresh. Hence "The New Mine": an album that's both lyrical and acerbic, and also spiced up with a couple of covers whose choice would set the tone for the original tracks if those weren't possessed with smouldering compassion.
Whether the answer to "Show me where your pain begins. Is this where my story ends?" will provide a skeleton key to the record and open doors to every cut on display, depends on the listener's wish to share the band's sentiment, and the infectiously rocking take on Ed Snodderly's "Working In The New Mine" surely calls for joining in. And then there's the spectral "Ethiopia" which pulls this record into focus, picking up where "Woodstock" – another Joni Mitchell's cover and the group's first hit in 1970 – left off, detaching the song's context from its period and redefining it as a timeless piece, yet its a cappella intro is given a tick-tock for a rhythm. The resulting urgency are smoothed when country licks caress Matthews' velvet voice, only the twangy "Feed It" has a similar clock-like quality, feeling frisky, even though the number's love-minded message couldn't be more serious, especially after "The Hands Of Time" has added a bitter air to honeyed harmonies and vocal phrases that get passed around and ebb away once ivories come to the fore and elevate the flow to the album's spiritual plane.
Penned by the ensemble's strings meister Bart-Jan Baartmans, the peaceful "Patty's Poetry" seems to imply the "Radio Ethiopia" writer's oeuvre (one's ear won't hear her name's spelling, right?) but it bears the ripple of exquisite intimacy – the sort of warmth also filling the delicately rumble behind "Starvation Box" and the defiant "The Sacrificial Cow" – which doesn't contrast "The Hole"… Or "the whole" because this tune keeps its eye on the entire world's woes and insinuates that the title track and "Inbetween" point to a new state of mind. "I will be a wiser man," sings Iain in "In My Next Life" suggesting he's not been perfect in the current lap of existence, but that's what's great about Matthews' songs: they're leave space for further movement.
Slightly less varied than "Like A Radio" which preceded it, "The New Mine" isn't the end of Iain's story – there should, and surely will, be more.
****
Matthews Southern Comfort – The New Mine
Format: CD – Digital / Label: MiG Music
Release: 2020
Tekst: Gerrit Schinkel for Bluestownmusic.nl

De Britse singer-songwriter Iain Matthews (16 juni 1946, Scunthorpe, North Lincolnshire) speelt in de vroege jaren '60 in verschillende amateurbandjes. Als hij in 1966 naar Londen verhuist wordt hij lid van de band Pyramid, maar sluit zich daarna al snel aan bij de folkrockband Fairport Convention.
In 1969 verlaat hij Fairport Convention en neemt in 1970 onder de naam Matthews Southern Comfort zijn eerste soloalbum op. Met Matthews Southern Comfort scoort hij in 1971 een grote hit met het door Joni Mitchell geschreven Woodstock. Na het ontbinden van Matthews Southern Comfort richt hij in 1972 Plainsong op, de band die hij twee jaar later ook weer ontbindt en hij emigreert vervolgens naar de VS.
Iain Matthews woont nu al weer vele jaren in het Limburgse dorp Horst. In 2017 richt hij Matthews Southern Comfort weer op. De line-up bestaat naast Matthews uit Nederlandse musici en in 2018 brengen ze hun goed ontvangen album 'Like a Radio' uit.
Op 27 maart a.s. komt het nieuwe album van Matthews Southern Comfort uit. Op het twaalf nummers bevattende 'The New Mine' staan tien eigen (band)composities en twee covers.
Het album opent met een wonderschone vertolking van Ethiopia, een song van Joni Mitchell van haar album 'Dog Eat' dog uit 1985. The Hands of Time is een gospel-achtige ballad met de warme stem van Matthews en de fraaie Crosby Stills &Nash-achtige harmonieën.
De eerste single van het album, Feed It, is melodieuze midtempo americana met flonkerend jazzy pianospel, een mooie akoestische gitaarsolo en backing vocals.
Mooi is de elektrische gitaar in Patty's Poetry. De tweede cover is het boogie-achtige Working in the New Mine, een song van de Amerikaanse folkzanger Ed Snodderly uit 2004. In het midtempo Starvation Box is B.J. Baartmans op slide te horen.
C'mon Amigo is een schitterende westcoast achtige ballad met banjo, accordeon en CS&N en Steely Dan-achtige harmonieën. In The Hole zit een mooie pianosolo en de accordeon komt weer om de hoek kijken in het soms stevige A secret is Gone.
Na het gospel-achtige The Sacrificial Cow, met jazzy pianospel, gaat het swingend verder in het melodieuze Inbetween. Het slotnummer In My Next Life is een fraaie afsluiter met de warme en zuivere zang van Matthews en de voortreffelijke begeleiding.
Conclusie:
Iain Matthews heeft met 'The New Mine' weer een parel aan zijn toch al fraaie oeuvre toegevoegd.
Rootstime.be review
De Engelse muzikant en songschrijver Iain Matthews heeft in zijn lange muzikale carrière platen uitgebracht onder verschillende namen: Iain Matthews, Ian Matthews, en Ian McDonald, wat ook de naam is op zijn paspoort. De nu bijna 74-jarige artiest was eerst gedurende 2 jaar zanger bij de folkformatie 'Fairport Convention' naast zangeressen Judy Dyble en Sandy Denny. Hij vormde daarna ook enkele eigen bands met 'Matthews Southern Comfort', 'Plainsong' (met Richard Thompson), 'Hi-Fi', 'No Grey Faith' en 'More Than A Song'.
Dat daar een heel lange serie albums uit voortgesproten is staat buiten kijf en dat daar grote en minder grote successen bij waren is niet meer dan normaal. Met zijn heropgerichte groep 'Matthews Southern Comfort' die momenteel enkel uit Nederlandse topmuzikanten bestaat brengt Iain Matthews tegen eind maart 2020 een nieuwe plaat op de markt die "The New Mine" als titel heeft gekregen. Het is de opvolger van het album "Like A Radio" uit 2018 dat hier indertijd op een lovende recensie van 'Rootstime'-collega Dani Heyvaert mocht rekenen.
De drie Nederlanders die hem bij de opname van dat album hebben bijgestaan begeleiden hem bij optredens al sinds 2017. Het zijn gitarist en muzikale duivel-doe-al B.J. Baartmans, toppianist Bart de Win en singer-songwriter Eric Devries, kortom allemaal mannen bij wie de muziekmicrobe al decennialang door de aderen stroomt, net als bij Iain Matthews zelf. Er waren met drummer Sjoerd van Bommel en zangeres Elly Kellner ook twee gastmuzikanten aanwezig in de opnamestudio. Ze hebben er samen een heel mooie plaat van gemaakt met twaalf knappe en prachtig gearrangeerde folksongs.
Tien van de twaalf tracks zijn nieuwe composities van Iain Matthews zelf of samen met de andere bandleden gecomponeerd en twee nummers zijn coverversies van zorgvuldig geselecteerde songs met het liedje "Ethiopia" dat door Joni Mitchell werd opgenomen voor haar album "Dog Eat Dog" uit 1985 en het eerder onbekende "Working In The New Mine" van de Amerikaanse folkzanger Ed Snodderly, een track uit diens album "Brier Visions" van 2004.
De sinds 2002 in het Nederlands-Limburgse provinciestadje Horst woonachtige Iain Matthews beschikt ondanks zijn toch al flink vorderende leeftijd nog altijd over een heel warm, zuiver en krachtig stemgeluid dat uitermate geschikt is voor de liedjes die hij dezer dagen schrijft en opneemt. Op het album "The New Mine" vinden we opnieuw meerdere pareltjes terug waarvan we vooral de songs "The Hands Of Time", eerste single "Feed It" (zie video), "C'mon Amigo", "A Secret Is Gone", het lekker swingende "Inbetween" en de retrospectieve slotballad "In My Next Life" ter beluistering willen aanbevelen. Fans van grote singer-songwriters als Elliott Murphy of James Taylor zullen ongetwijfeld ook hun gading kunnen vinden bij de songs op deze zoveelste nieuwe plaat van Iain Matthews en zijn band 'Matthews Southern Comfort'.
(valsam)
Matthews Southern Comfort – The New Mine
Released: 27th March 2020
Label: MIG Music
Format: CD / Digital
Iain Matthews is probably the finest British exponent of the 'Americana' musical genre. Ever since his departure from Fairport Convention in 1969, it is an avenue that he has explored to great effect if, perhaps, only sporadically achieving the success and recognition that his talent and perseverance so richly deserves. Of course, from the early 1970s until the dawn of the current millennium, Iain was based in the US, where he was able to hone his songwriting and interpretational skills, catching the attention of such influential figure as Michael Nesmith and The Eagles.
Those readers familiar with the name Matthews Southern Comfort will no doubt recall that the band's most high-profile moment occurred when they occupied the Number One position in the UK singles chart for a period of 3 weeks in October 1970 with their version of Joni Mitchell's Woodstock. Although fairly typical of the band's country-flavoured, pedal-steel driven melodic rock music, Woodstock was by no means the only outstanding example of the band's repertoire and they were responsible for two excellent albums, Second Spring and Later That Same Year, both released in 1970, and both well worth a listen (neither have aged a day!)
Iain left Matthews Southern Comfort in 1971 and the name of the band lay dormant until it was revived in 2010 when Iain, backed by a group of top-notch Dutch musicians (he relocated from the US to The Netherlands in 2000) released the Kind Of New album under the old name. The New Mine is the fourth Matthews Southern Comfort album since the name was revived and Iain has enlisted the services of Bart Jan Baartmans (acoustic, electric and resonator guitars, mandolin, sitar, bass and banjo), Bart de Win (acoustic and electric pianos, accordion and backing vocals) and Eric De Vries (acoustic guitar and vocals) to deliver an album which expertly and entertainingly travels the path from British Folk Rock to full-blown Americana.
The choice of musicians and instruments is inspired. The band gel perfectly together, both in the construction and delivery of the songs and in the compositional collaborations that dominate the album. Compositional credits cover several combinations of the band's personnel, with Iain Matthews linking with each in turn to produce some excellent songs. Notable amongst these collaborations are C'mon Amigo, a song by Iain and Eric which contains some marvellous vocal harmonies and would be worthy of inclusion on any Eagles album; The Hole is a Matthews/de Win effort that makes scary references to the destruction of the ozone layer and its growing consequences for the planet and In My Next Life, composed by Bart Jan Baartmans and Iain, offers shrewd philosophical tips to anyone fortunate enough to relive their life applying the experiences that they have gathered.
The album opens with a version of the Joni Mitchell song, "Ethiopia" (from her 1985 Dog Eat Dog album). This is, perhaps, appropriate, given the long association in the minds of many people between Joni and Matthews Southern Comfort. The version on this album is sublime with sprinklings of piano and some tasteful guitar work which both set the tone for the musical treats to come. Sadly, the subject matter of the song – the plight of the people in the African deserts and the indifference of the West, remains as current as it was when the song was written, which provides all the justification necessary for reviving the song.
Of Iain's solo compositions, my highlight is Starvation Box; a story of an itinerant musician which builds excitingly and which contains some wonderful slide guitar work.
Some may question the relevance of crediting this, albeit tremendous, album to Matthews Southern Comfort; after all, the only constant thread between the outfit that operated in the early 1970s and the band on The New Mine is Iain Matthews. I would, however, strongly challenge this view. The personnel may be different but the sound and intent of the band pick up precisely where the original band left off, even to the extent that Gordon Huntley's missing pedal steel licks that were so much a feature of the 1970 incarnation are precisely replicated by Bart Jan Baartman's guitar. Happily, also, Iain's melodic voice is not only as good as ever, it is enhanced by the vocal support of Bart de Win and Eric De Vries. The New Mine is very definitely a Matthews Southern Comfort masterpiece.
Matthews Southern Comfort will be appearing at Fairport's Cropredy Convention during the afternoon of Saturday 15 August. I, for one, can't wait!
De tiid hâldt gjin skoft zeggen ze in Friesland, en inderdaad, alles gaat door. De tijd is een stoomwals die nooit pauzeert. Matthews' Southern Comfort is de titel uit de vroegste periode van Iain Matthews' solocarrière. Een album dat bijna 50 jaar geleden verscheen. De naam Southern Comfort had hij geleend van een gelijknamige song van het Canadese duo Ian and Sylvia Tyson. Matthews' loopbaan heeft een gevarieerd parcours afgelegd. Vond hij in het begin zijn inspiratie in de Folk georiënteerde hoek, hij wentelde zich tactisch om in de stijlvorm die in die periode pop heette, en coverde onder meer songs van tijdgenoten als Joni Mitchell en Jackson, maar schreef ook zelf nummers. Tegenwoordig gaat zijn uitvoerende stijl wellicht eerder verscholen onder de eigentijdse benaming die wij Americana genoemd hebben. Hij bedient zich van Britse invloeden, bracht een lange periode door in Amerika, en de laatste jaren houdt hij residentie in het zuiden van ons land. De tijd remt wellicht niet af, maar Matthews zang is nog minstens zo zuiver als uit zijn beginperiode.
Jaren geleden trad Iain Matthews op in een fijne gelegenheid te Wijk bij Duurstede, samen met Ad vanderVeen. Genoten heb ik van dit concert van beide heren, waarbij ik vooral de stem van heer Matthews leerde waarderen. In zijn laatste project omringde Iain zich met de crème de la crème van Nederlandse bodem. Eric de Vries; Bart de Win en Bart Jan Baartmans staan hem op dit album terzijde. Niet alleen als muzikant, maar op momenten ook als songschrijver. Centraal staat echter de rechtgeaarde Brit. Qua stijl vinden geen grote verrassingen plaats. De nummers hebben overwegend de hand van Iain Matthews, maar ook vind je covers van Carole King en James Taylor. Als één van de fijnste songs laat zich beluisteren de samen met Michael Fracasso geschreven Right As Rain. Mooie kleingehouden muzikaal werkstukje, waarin Bart's sierlijke pianospel het nummer doet stijgen. Genieten! Ook het samen met Bart Jan uitgevoerde A Heartless Night doet vervlogen tijden herinneren. De wereld draait door, en stopt enkel op momenten van gelukzaligheid. Onthoud dat.
Like a radio
(MIG o2032)
Iain Matthews kan het niet laten. De 71-jarige singer-songwriter voegt wederom een album toe aan zijn toch al rijke verzameling. Dit keer met Matthews Southern Comfort. In de jaren zeventig maakte die formatie twee albums, sterk gekleurd door het gebruik van de pedalsteel, waarmee de groep de plakker 'countryrock' kreeg.
Begin deze eeuw richtte Matthews een nieuwe editie op, die ook weer aan personele veranderingen onderhevig is. Bart Jan Baartmans blijft zijn trouwe adjudant, evenals toetsenist Bart de Win die Mike Roelofs verving. De oorspronkelijke zangeres Terri Binion en gitarist Richard Kennedy maakten slechts deel uit van de eerste studioband. Live verving Elly Kellner Binion, maar ook haar plek wordt inmiddels ingenomen door Eric Devries.
Het zijn de poppetjes waarmee Matthews steeds dichter bij zijn doel komt: oude en nieuwe songs (her)creëren met een onvergetelijke indruk. En dat is op Like a radio aardig gelukt. Neem alleen al de herziende versies van To Love, Something in the way she moves en vooral Darcy Farrow. Niks niet coveren, maar compleet de boel strippen en opnieuw aankleden. Zo wordt Darcy Farrow een heerlijke ballad met De Win in een hoofdrol.
Blijven er – inclusief de bonustracks – twaalf nieuwe songs over. Geschreven door Matthews, maar in een flink aantal gevallen bijgestaan door zijn groepsmaten. Teksten over heden en verleden. Zo handelt Jive Pyamas over herinneringen aan L.A. uit 1973, maar het is voorzien van een moderne wat jazzy upbeat melodie. Ook muzikaal wandelt Matthews door zijn catalogus. Crystals on the glass en Bits and peaces zouden zo uit het repertoire van Plainsong kunnen stammen. Chasing Rainbows en The age of Isolations benaderen qua structuur het werk uit de laatste decennia, waarbij je bij die laatste structuren van Woodstock terughoort. The thougt police past in zijn USA periode, Darcy Farrow zijn eerste jaren. Phoenix rising refereert in de verte het meest aan de originele band, vooral door de resonator van Baartmans en de buigingen in de melodielijn. Right as rain werd geschreven met Michael Fracasso in de Amerikaanse periode.
Het lijkt een verzameling van losstaande stijlen, maar het tegendeel is waar. Bindende factor is uiteraard de stem van Matthews, maar de band schept een coherent, herkenbaar geluid met dan weer de toetsen als fundament en de gitaar die fraaie fratsen uithaalt en andersom.
Geen makkelijk en direct toegankelijk album. Je zult ook muzikaal een en ander op je moeten laten inwerken. Net als de teksten vraagt het om meerdere luisterbeurten om uiteindelijk je zeer positieve oordeel te kunnen verdienen.
---
MATTHEWS SOUTHERN COMFORT Like A Radio MIG CD With a new line-up and a new collection of songs, Matthews Southern Comfort return with Like A Radio . In terms of production, the album has a very modern feeling, while in terms of music, there are very defi nite colourings of the mid-20th century folk-rock and singer-songwriter scene. Those vibes of Laurel Canyon are directly evident on the likes of James Taylor's 'Something In The Way She Moves', Carole King's 'To Love' and on the resonator-soaked rendition of Steve Gillette's 'Darcy Farrow'. Unsurprisingly, these sounds also spill into the album's originals, being particularly noticeable on 'Bits And Pieces', 'Phoenix Rising', 'Been Down So Long' and the title track. This latter number is a probable homage to the late songwriter Richard Fariña'; borrowing its hook line from his novel Been Down So Long, It Looks Like Up To Me , and whose work has also, curiously been subject of another Iain Matthews project (Plainsong), in between the various Southern Comfort resurrections.
Christopher James Sheridan Shindig Magazine
Editorial Reviews Amazon.com
Two years ago Matthews Southern Comfort celebrated a much acclaimed musical comeback with their album Like A Radio. In a new and younger line-up, the album of the singer/songwriters was at the cutting edge – it sounded fresh, absolutely modern and innovative. The musical skills of the new MSC members, their engagement as well as their unbridled joy of playing were still unparalleled and the polyphonic flowing vocal harmonies evoked the original version of the band. In the beginning of the year 2020 Iain Matthews and his latest incarnation of Matthews Southern Comfort will release their new album The New Mine, featuring 12 tracks, with which they continue their musical successful recipe: somewhere between traditional British folk-rock and Americana, strong songs, excellent playing and arrangements and perfect production all add up to make this a supremely enjoyable listen again. The New Mine features an extraordinary and remarkable version of Joni Mitchell's Ethiopia from the Dog Eat Dog album, which the popular American singer and songwriter had released in 1985. Remember: Matthews Southern Comfort had their biggest chart success exactly 50 years ago with their million-selling version of Joni's Woodstock. Maybe history is repeating itself!