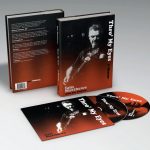 Iain will be signing copies of his memoirs, " Thro' my eyes"  on all three days of the festival this year.
Signing times are as follows. Thursday. 2.30-3.30pm. Friday. Noon-12.40pm. Saturday. Noon-1pm.
Iain will be playing 4 shows in Norway between August 17/20th.  Most of the shows will be with members of the famous Norwegien band The Salmon Smokers.
The dates are.
17th.  Rod Herregard festival. Halden. 18th. Private party. Oslo. 19th. Duo in Halden. Venue TBA. 20th. Roverstaden. Oslo