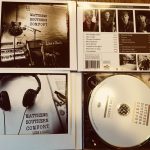 Matthews Southern Comfort – that's a name we haven't heard for a while and, to be honest, I'm not sure why we're hearing it now. If you remember the MSC that had their greatest hit with 'Woodstock' featuring Gordon Huntley's pedal steel – this isn't them. If you remember Iain's first solo album featuring Britain's folk-rock illuminati – no not them, either. Like A Radio is a damn good Iain Matthews solo album with three old tracks revisited – Second Spring's sublime 'Darcy Farrow' (on piano this time) and 'Something In The Way She Moves' (a superb reinterpretation)  and Carole King's 'To Love' which originally opened Later That Same Year. Plus a good band.
Iain certainly isn't looking back here. He's supported by three Dutch musicians: multi-instrumentalist Bart Jan Baartmans, who also co-produced, Bart de Win on keys and acoustic guitarist Eric Devries. There is a resonator guitar but not a pedal steel in sight. These are new Matthews song, often written with recent collaborators, Clive Gregson, Egbert Derix, and his three bandmates.
There are knowing touches like the quote from 'Good Vibrations' in 'Chasing Rainbows', an anthem to California co-written with de Win but for the most part these songs concern modern issues and are written in modern terms. The line "working the room like a bitch in heat" in 'A Heartless Night' certainly attracted my attention. The opener, 'The Thought Police', built on a simple acoustic guitar with a plethora of strange things, is a defiant individual's stance in the post-truth surveillance society and Iain returns to the vicissitudes of modern life in 'The Age Of Isolation'.
There seems to be a number of toxic relationships beginning with the title track but Iain has lost none of his melodic and lyrical skill. 'Bits And Pieces' matches a confoundedly catchy melody to clever words and 'Been Down So Long' begins with the effect of Cortez' arrival on the indigenous people: "we've been down so long it looks like up to me".
As I said, Like A Radio is a good damn Iain Matthews album and Baartmans' electric guitar does echo the band of the 70s while de Win's keyboards bring a new sound. While Iain looks a touch haggard in his cover photo his voice has lost none of its power, just matured like a fine wine and those harmonies are as sweet as ever.
Dai Jeffries